BRAEMAR MOUNTAIN SPORTS BRITISH SKIMO CHAMPIONSHIPS GLENSHEE - Saturday 27th January 2018


This continues to be one of our most popular races during the season when racers compete over a set course and the fastest racer is declared the winner.

Over the past 5 years we have successfully managed to race independently on both sides of the mountain and this year, in an attempt to design a larger and more challenging course we will attempt to race on both sides. However, keeping in the true spirit of Skimo Scotland there will be an option for racers to sign up for a shortened course.

We will try and race on Sunday 28th January if the conditions are unfavourable on the Saturday.

Entries close Sunday 21st January 2018.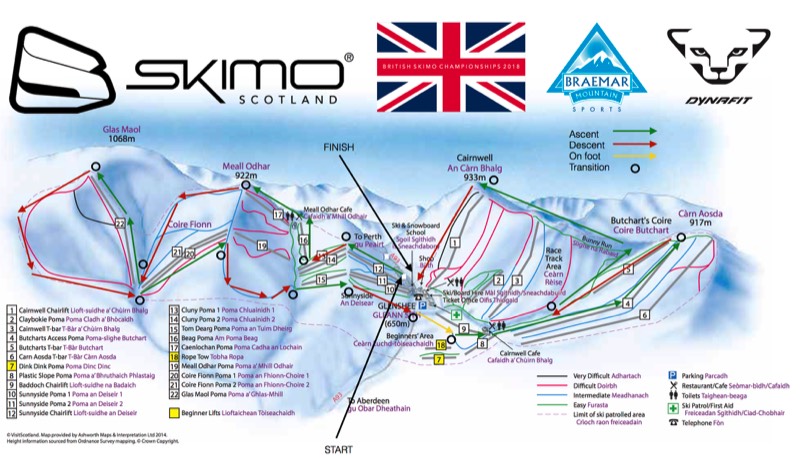 Total ascent: 1231m
Total descent: 1231m
Distance: 13 km

Braemar Mountain Sports remain our main sponsor for this race. They will be providing 1st, 2nd and 3rd prizes in both the Individual Male and Individual Female category.
The winning male and the winning female will also be invited to put a 3 person team together and represent Dynafit Skimo Scotland in the
SellaRonda
ski marathon in the Dolomites, Italy in 2019. Dynafit will cover the entry fee but travel to and from Italy will be met by the team and I'm sure we'll make you look nice.
We'll keep with traditional Skimo Scotland fashion, and have a few cool spot prizes to give away too.
1200 Registration opens
1420 Registration closes
1440 Briefing at race start
1500 Race starts
1730 Food served
1800 Prize giving ceremony


Registration will take place upstairs in the main building. Please follow the signs.
Once competitors have registered, they should make their way to the start of the race for the briefing at 1440.
Please ensure that avalanche transceivers are transmitting prior to race start.
Entries on the day are unfortunately not accepted.
Skimo Scotland will send out final information about race day after entries close.


£35.00 licenced Skimo Scotland Racers
£40.00 non licenced competitors

Skimo Scotland will provide a basic 2 course meal for competitors at the end of the race in the main cafe. It is possible to book extra meals for supporters during online registration.


For racers to be eligible for the British Championships, they must be a British National. Non British Nationals competing in the race will still be eligible for series points and race prizes but will unfortunately not be eligible for British rankings.


Click
here
for instructions on how to get to the Glenshee Ski Centre.
Skimo Scotland encourage family and friends to support the competitors as they battle over the course. Spectators are welcome to stand alongside the edge of the race course but must not provide physical assistance.